👶 I'm spinning
"Hey, I can wave my leaves and keep spinning them for a while." Not only can it be grasped and teething for your baby, with a jingling sound, it can more easily attract the attention of young children and arouse their interest. This is one of the best toys to accompany your baby.

👶Super safe
Great toy for 1-4 year olds. BPA-free, latex-free, petroleum-free, lead-free and phthalate-free, safe for baby to use. The soft rubber suction cups on the bottom can be sucked on any flat surface so that your baby can easily move around too.

👶Why choose a spinning toy?
Come to the spinning toy, only happy without crying. Colorful rotating wind leaves can relieve baby's restlessness, make baby feel happy and help baby fall asleep quickly.

👶 Enjoy every moment
The 4.9in suction cups can be attached to any smooth surface. When bathing or eating, the animal family will keep rotating to attract your child's attention, and baby will enjoy every time. Whether indoors or outdoors, the rotating squad will share a fun time with your baby.

🎁 Top Gift Ideas
Are you looking for a gift for your baby? Congratulations, this is the top toy gift for babies for any situation, such as birthday gifts, Easter gifts, holiday gifts, everyday toys. Don't miss any opportunity to surprise your baby.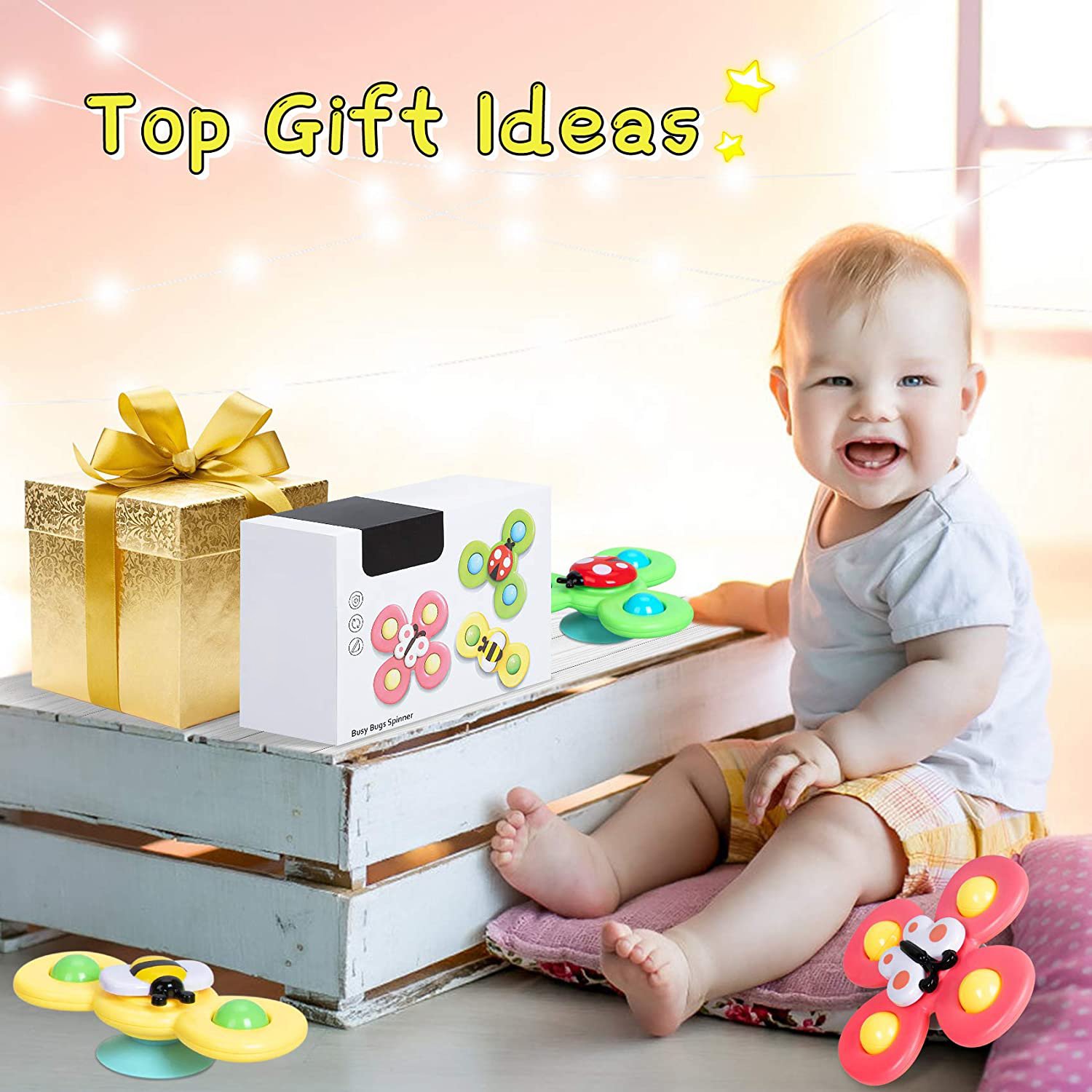 Customer Reviews
Dana Nunez
My 1 year old loves these. I stick them everywhere (including my forehead lol. Warning if you attempt this though, they leave a bruise if you push too hard. So definitely not recommend but it was bery entertaining.)I brought these when I traveled with my 1 year old. I stuck them to the window in the plane and on the TV screen. They also stick well to certain tabletops and floors. And they rattle so my baby likes to shake them too. Definitely recommend these.
Daina
Absolutely fun to play with. They are so colorful & vibrant. My baby just loves to see them when they spin. Great quality. All the edges are rounded. No chances to get my baby hurt. The suction cups work well on my baby's crib, mirror , his chair , car seat and bathtub too. So much fun!!!
Kate
Our 3 hour flight turned into a 7 hour flight and these were a hit the whole way for my 13 month old
Kaylan
We used these spinners to entertain our little one during our flight! Very easy to suction, easy to spin and easy to store. Great find and I'm very happy with the purchase!
Ana
I bought this for an upcoming trip i had so i can keep him entertained in the airport and it totally kept him entertained ! I would recommend this to anyone with a toddler or baby.
Jenifer Carrreno
Bought for my almost 1 yr old grandson and quickly became a favorite. The fact they are small enough to toss in diaper bag as well as put in bath was a selling point. Grabbing a second set for my house!!!